Julie Bishop, bookkeeper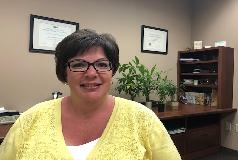 QUESTION: What attracted you to Nelson CPAs? I'm sure many firms would have been happy to have you, so why Nelson CPAs?
ANSWER: It was very important to find a position that was a good cultural fit for me. What I mean by that is a firm that really cares for me as a person and respects the work-life balance that is so important. Everyone I spoke with at Nelson CPAs, both on the phone and in person, made me feel very comfortable right away. I could tell that it was an environment that would be nurturing and support me as a mom and a professional. And the fact that it is a female-led firm sealed the deal!
QUESTION: How important is work-life balance to you? How does Nelson CPAs help you achieve that balance?
ANSWER: I have a college senior and two high school seniors who are very active in sports and other activities, so it is very important to me to be there for my family as much as possible. Everyone at Nelson CPAs is very family oriented and are very supportive of the philosophy that family comes first. By offering a flexible work schedule and the option to work remotely when needed, the firm allows you to meet any work deadlines you might have and still be there when your family needs you.
QUESTION: Let's talk company culture. What is the culture at Nelson CPAs? How does it differ from other firms?
ANSWER: When I first started here, everyone told me that South St. Paul has a "small-town" feel. Coming from a true small town, I found that hard to believe. However, it is very true! Everyone at Nelson CPAs treats each other like the group of friends that we are. Many of us enjoy eating lunch together, where we get to know each other, our families, hobbies and activities. It doesn't feel like work; it feels like catching up with friends. That is also how we treat our clients. We take the time to get to know our clients and their businesses – not only as professionals, but as individuals who truly care about their well-being. By establishing that kind of rapport with clients, we establish a deep level of trust so that they know we have their best interest at heart.
QUESTION: How has working at Nelson CPAs helped your career? Tell us about what you've learned and experienced that has positioned you to take your career to the next level.
ANSWER: Working with a broad diversity of clients has taught me how to tailor the work I do to meet their specific needs. Because of this firm, I have gained a great deal of confidence in the work I'm doing for my clients. I have earned their trust so that they know they can come to us for advice for their most critical business dealings. Education of course is also very important to stay at the top of your game. Our CPAs work very hard to stay current with the constantly changing tax laws so that we can offer the best advice for each of our clients.
QUESTION: People who work for Nelson CPAs speak highly of the family-like atmosphere among co-workers. How would you describe the relationship between co-workers, and how does it add to the overall experience?
ANSWER: Truly, we are a large group of friends. We collaborate on the best way to serve our clients, but we are also genuinely interested in each other as individuals. We also know how to have fun, such as going to the movies together, musicals, and even an escape room! This atmosphere makes it very easy to come to work – especially during tax season when we spend a lot of time together!
QUESTION: Finally, why do you stay at Nelson CPAs? The job market is hot, and I'm sure other firms would love to have someone with your talent. What does Nelson CPAs offer that other firms simply can't match?
ANSWER: Honestly, I left Nelson CPAs about a year ago for a job that was 30 minutes closer to my home and slightly higher pay. It took me all of one week to realize that I had made a huge mistake and I quickly asked for my old job back. I was nervous as I had just left, but true to the culture and the supportive nature of Nelson CPAs, they welcomed me back with open arms and I won't be looking for another job again. I love the work, I love the clients, and I love the people. Nelson CPAs is the perfect fit for anyone looking for both true work-life balance with an extraordinary high-performing firm.