Geoff Luckmann, CPA, tax manager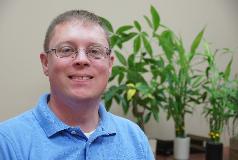 QUESTION: What attracted you to Nelson CPAs? I'm sure many firms would have been happy to have you, so why Nelson CPAs?
ANSWER: I was attracted to Nelson CPAs for many reasons, not the least of which was the flexibility it offers to me and my family. It's a family-first culture, where work-life balance is not just a cliché. It's a reality. I also liked the size of the firm. Not too big where you're a cog in a wheel, but big enough where you can learn a lot and get experience in a wide variety of situations in the accounting world. We also have direct contact with the clients, which is different than at larger accounting firms. Nelson CPAs treats our clients like we treat our employees, with respect, compassion and a true focus on getting to know the whole person.
QUESTION: How important is work-life balance to you? How does Nelson CPAs help you achieve that balance?
ANSWER: Work life balance is very important to me. I have a lovely wife and two great kids. I love nothing more than spending time with them. Obviously in this profession, tax season means more hours, and we are all committed to going above and beyond for our clients. But overall, all of us at Nelson CPAs have the flexibility to get our work done during the times, and in the locations, that best fit our individual circumstances. In short, we are trusted as the talented professionals we are. That flexibility and faith from the leadership here is what truly sets Nelson CPAs apart from other firms.
QUESTION: Let's talk company culture. What is the culture at Nelson CPAs? How does it differ from other firms?
ANSWER: It's like family here. We work hard, but we have fun outside of work, too. We do volunteer events, we go to movies, an escape room – that was fun! I even brought in my telescope and we watched the eclipse last year. We genuinely care for each other. If one of is hurting, we're all hurting. It's a culture you don't experience at a larger firm. We are truly people first.
QUESTION: How has working at Nelson CPAs helped your career? Tell us about what you've learned and experienced that has positioned you to take your career to the next level?
ANSWER: Working here has gotten me one step closer to owning my own accounting firm. I've also learned a great deal from my coworkers, not just about taxes and software, but about life in general. Truly, Nelson CPAs provides a great foundation for any professional who wants to take their career to the next level, particularly because there are growth opportunities within the firm.
QUESTION: People who work for Nelson CPAs speak highly of the family-like atmosphere among co-workers. How would you describe the relationship between co-workers, and how does it add to the overall experience?
ANSWER: There's definitely a family atmosphere here. You've got to be able to trust the people you work with. We're honest with each other and the atmosphere is light, even during busy season. That's what I love about Nelson CPAs. Again, you simply don't find that at other firms.
QUESTION: Finally, why do you stay at Nelson CPAs? The job market is hot, and I'm sure other firms would love to have someone with your talent. What does Nelson CPAs offer that other firms simply can't match?
ANSWER: A road map for career progression. If you look at the industry as a whole and where people are in their careers, there are going to be a lot more people retiring in the near future than entering the accounting industry. At Nelson CPAs you meet a wide variety of people and work in many different situations so you can get valuable experience quickly. Other firms make you specialize so you learn one thing and that's what you do day in and day out. People who join firms like Nelson CPAs are going to be the future leaders of the firm and the accounting industry.